I received so much positive feedback for inspiration posting this another place that I decided to copy and paste! Please join in with before/after-stories!
Hi gals!
I've been thinking about this for a while...
I'll start you up kindly by connecting to gals of ALL ages!
( Thinly veiled excuse for posting pictures from yesteryears.... Most pi... er... photos hubby's faves.
From his side of the bed/office/studio etc Try spotting ones that are DEF not...
)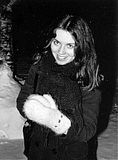 17,- one week away from 18, soon to be engaged. Young and innoc... Well, young!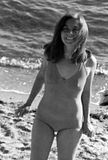 27, married and all 3 kids born. Summertime and VERRA happy!!!
37 - teenagers in the house, - blessed with good and lucky ones! :inlove:
47... My 40s, aka "the VERRA dark ages"... Illnesses, deaths, economic trouble: apathy and comfort food - A LOT of it...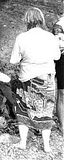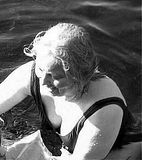 Early in the spring of 2003 I sat myself down and said:
- Listen up, missy!!
30 years from now: Do you still want to kick butt OR risk having kicked the bucket?!?
You know me...
I HAD to choose
( Not that I would EVER.... Au contrai... NOT the gutter! NOT the gutter! )
Later in 2003: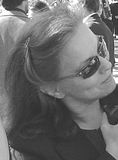 Since I'm old and wise ( Stop laughing, Jilly! ) a couple of pointers:
1) If you are say broadshouldered and shortlegged no slimming nor trimming will EVEH make you Venus de Milo. I recommend Suze and Trinny's "What NOT to wear!".
2) If you are say blessed with genes that make you grey early do NOT color dark brunette the way you used to be..
Freshly colored it will make you look like a VERRA haggered thirty-something with a severe hang-over, and when it grows out..... Hubby once filmed me on a VERRA windy ferrytrip: I looked like a fat bald freak with a scary halo of dark hair....! Get used to the new you OR go more blondish!
I used to have my hair free flowing or neatly...er.. swirled up in a haste with pencil/paintbrush etc jammed through to keep it in place when working, - like so: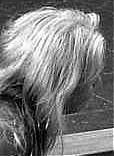 Earlier this spring I decided to make myself over (
) and by use of kitchenscissors and a little something from L'Oreal this is about now.. Taken a few weeks ago, all dolled up for visitors...
Hubby jumped to the occation.. (I look about as "pleased" as I was, but this shows my new "bangs"), - i.e.
me
wearing make up..
Yes, I can look EVEN worse
Ignore that awful sound in the background! It's only gravity gnashing it's teeth for being deprived of playing havoc 100% with this ol' gal :boink: :
My ONE intact color...