Sorry so late with these - I do do other things in my life but just not as much fun as this.
Our great GALS sign!
The theatre
Bella & me
Eliza, Bella, Lisa, Cassie & me.
Me & Andrea from Alaska.
Sherrell (aka bermos)
This was as close as I got this time. (Notice the bodyguard's shoulder and he wasn't about to move - I asked nicely too!)
Me, Moria, Kathy, Lisa, Sarah & Eliza. (This picture was taken by a very nice tourist and sent to Lisa)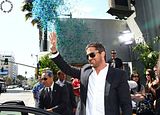 He is such a sweetheart to his fans!
Could he look any happier!
I didn't take the last two but they are two of my favorites of that day! Hope you enjoy!
Hugs, Barbara