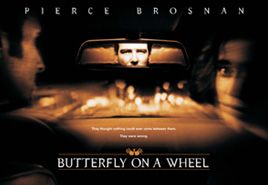 Yes, it's official! According to an interview with Pierce Brosnan at the Golden Globe Awards, his next movie will be with Maria Bello and Gerry Butler. This movie is "Butterfly on a Wheel" and there is a synposis of the plot and a movie poster available at http://www.iconmovies.net/butterfly/

Stef has added info to The Butler Updates, and also the movie poster to the gallery.
Added to The Butler News also:
300 Set Visit Preview
Andrea and Gerard take Most Attractive titles
Gerard Butler watch: "I'M BEOWULF!"
Gerard Butler GALS Holiday Charity Drive: Our newest total is over $2,300! The extension of the drive will conclude tomorrow. Dr. Em has challenged us to achieve $2,500 by the deadline. C'mon GALS - we can do it! We can't begin to thank you all enough for your wonderful generosity. Imagine how cool it would be for Gerry to sit in his own seat at SYT???